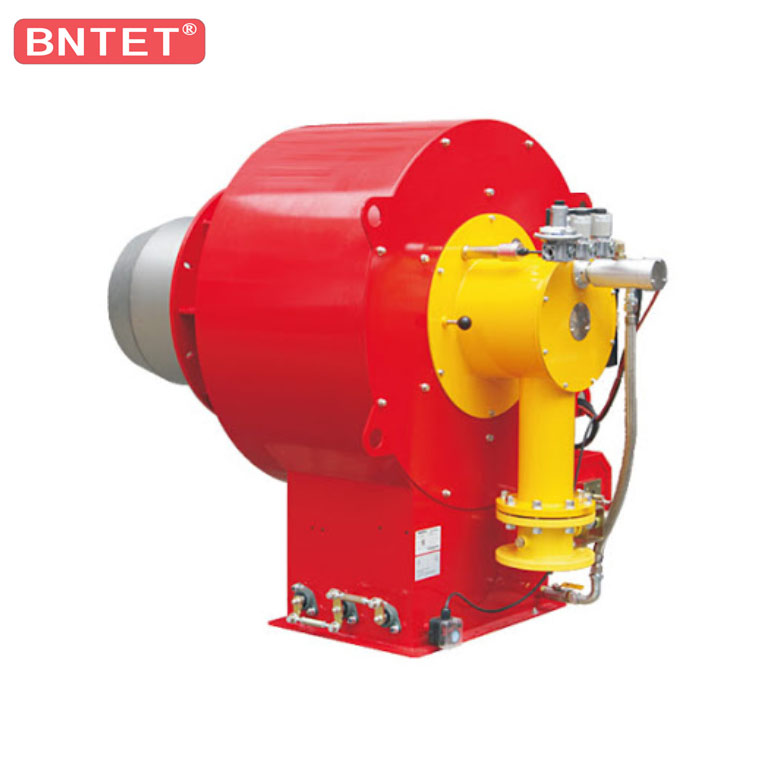 Oil burners are divided into light oil burners and heavy oil burners,Heavy oil burner is a combustion device specially designed for heavy oil with high viscosity and poor atomization performance to improve the combustion performance of heavy oil!The heavy oil burner can use light oil or heavy oil.The working principle of heavy oil burner Heavy oil enters the burner in two ways, which are swirl oil and axial oil, similar to the internal and external wind of the burner. Swirl oil is distributed in a circle on the outside; axial flow oil is a cylindrical straight jet in the middle. When it reaches the head of the spray gun, it converges into a whole way and enters the kiln through the spray hole of the atomizing sheet. The atomizing sheet is divided into various specifications according to the size of the spray hole!

Heavy oil burners performance:
1.The power range of BNFT series full-automatic separated type burner is 42MW,it can be equipped with the suitable fan according to the combustion power,boiler back pressure and different fuel.Both the program controller and flame detector have 24-hour self detection of flame signal.
2.The full-automatic fuel oil burners are specially designed for the supremely accurate adjusting ratio,therefore,BTFA series burner has wide range in the power output control.
3.Fuel atomization type:optional high pressure mechanical atomization or low pressure medium atomization.
4.The main oil pipeline is mounted at the burner body,individual oil pump unit,including the oil pump and oil filter.
5.According to the boiler hearth size,the flame length and diameter may be set by adjusting the angle of secondary air cyclone plate. This function is specially provided for the different manufacturers boiler hearths.
6.There are kinds of control modes, the standard configuration is the mechanical scale, however, it can be set according to the different operation demands,for instance, the electronic-scale oxygen controller, electronic-scale control dual-fuel combustion system, etc


As an exporter with 20 years of burner manufacturing experience in China, we solve the burner problems for you and help you choose the model that suits you. At the same time, we can also customize non-standard burners according to your needs!